*This is NOT an advertisement at all.
If you guys have been following my on my social media platforms, you would have known that I have been lamenting how I had missed out the Groupon deal on a Philips Air Fryer! I'd actually saw a deal on Mistral air fryer going for $100+ but decided that Philips would be a better choice… What's more, what comes to mind when people Mistral as a brand?
FAN! That's right. So no.
Philips Air Fryer.
I was quite upset about it but at the same time, I experienced mixed emotions because I have been receiving reviews from both sides of the fence! Other than stalking people's lives, Facebook is actually a very good platform to air out your concerns and pose questions. That is if you have helpful friends (be it virtual or not) to provide constructive feedback. Note the word, CONSTRUCTIVE.
What I was told :
Pros –
1. Healthier, less or no oil required
2. 'Fries' food much faster than deep frying
3. No oil-splattering all over
Cons –
1. Food isn't as crispy and tasty compared to deep fried food
2. Food is dried out of its succulence
3. A little difficult to clean the machine – but have read reviews that placing a layer of aluminium foil solves this problem!
4. Not true that no oil is required, food would taste better with some oil. Read here where the advertisement of the Philips Air Fryer was banned as it claims food can be fried with air but a small contradictory print stated that oil was still required.
There are several models of the Air fryer, so do pay attention to the model and specs if you are gonna purchase it.
The older version HD9220/20 – Black and White.
Philips have came up with a newer versions in 2 different sizes:
Smaller size  HD9230/20 – Black and White: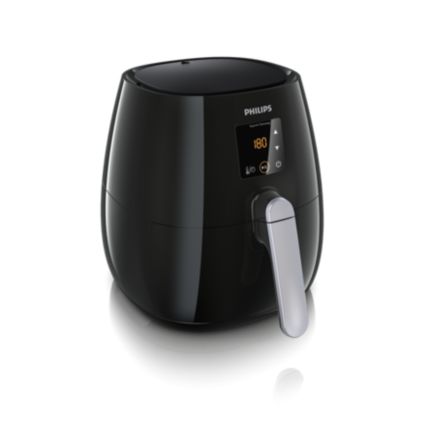 The larger version HD9240/90 (XL) – Black and White :
And what's the difference between the older and newer versions?
THIS :
Okay, maybe with some minor discrepancies on some of their specs (which doesn't seem to be that significant anyway)
The smaller and larger sizes are 800g and 1.2kg respectively. XL caters to larger quantity of food.
So guess which one did I get?
I got the older version at $239 and was given free baking tins and I forgot what… at SITEX last weekend. The white version was selling at a cheaper price of $229. I was told that Harvey Norman was having the same promo as well and the booth at SITEX was under Harvey Norman too.
As the only difference between the newer and older version was just the digital imaging, and the price difference does not justify the discrepancy, I decided to get the older version. I mean it makes sense right? Why pay over a hundred bucks just for that ? I can make do with non-digital knob as well.
Anyway, I had actually headed down on 2 days – Fri and Sun. I was over the moon when I discovered that SITEX actually does sell kitchen appliances such as the Philips Air Fryer. I don't know if I'm turning into an auntie or what but recently, after taking an interest in preparing my own food, I started to pay more attention to what others are eating (healthy/unhealthy) and kitchen appliances like the air fryer and happycall pan which make lives easier. Especially so for amateur with very basic culinary skills like myself.
I started out by making my own salads. I have received many compliments on how tasty my salads look in pictures and some have even requested me to prepare for them.
Honestly speaking, I am quite shocked because I'd always thought salads are like idiot-proof food. You just gotta get the ingredients and dump everything together. No offence, I ain't calling them idiots but it's actually very very simple. And salads are meant to be healthy so boiling would be the first cooking method to come into mind. You may add broccoli, carrots, sweet corns, mushrooms for enhancement of appearance and taste, just boil them and tadah, you're done.
Here are some of my salad pics spam before I move on to the air fryer…hee 🙂
So how did the Philips Air Fryer fare thus far?
It's been merely a few days since I've gotten it, and I have no really been to grocery shopping recently…
So my first food attempt to be air-fried was egg toast.
It turned out not bad actually, except that the bottom side of the bread got stuck onto the metal grill -.-
And then I air-fried my bratwurst sausages with cheese inside. I usually just toast them up but decided to try it out using the air-fryer.
It looks kinda shrivelled…maybe because I overcooked them or maybe the critic is true, that they do 'dry' out your food 😦
If you know me well enough, I'm not a fan of fried food. But if I were to have my food fried, I would definitely choose them to be air-fried, whether they require little oil rather than to be deep fried.
And also because, I am extremely afraid of heat and oil-splattering so innovative kitchen appliances such as the happycall pan and the air fryer is perfect for me, notwithstanding that I did burn myself accidentally while I was using the air fryer -.-
***
Oh yes, by the way, I know I haven't been blogging conscientiously recently…because I'm running outta ideas what to blog about!
I've been so lazy on my beauty regime but recently, I bought Vaseline's Instant Fair body lotion…and will be attending a facial session later tonight (not sponsored), so I guess those interested can keep a lookout for my reviews… 🙂
Cheers and thanks for reading! More food recipes, pics and reviews to be up soon as well! 😀